INTERESTED IN GETTING A NEW TRAINER
BUT DON'T KNOW WHICH TO GET?
THIS IS ONE OF THE MOST FREQUENT QUESTIONS WE GET HERE AT PAC. PEOPLE UPGRADING FROM OLDER SYSTEMS OFTEN FEEL A LITTLE LOST WHEN CONFRONTED WITH A MYRIAD OF DIFFERENT OPTIONS. WITH THAT IN MIND WE HAVE COME UP WITH A LITTLE ARTICLE TO HELP YOU PICK.
THE TWO TRAINERS WE HAVE PICKED ARE THE NDXT+ AND THE EXT+. YOU MAY ASK WHY? SIMPLE REALLY. . THESE ARE OUR TWO MOST POPULAR PRODUCTS.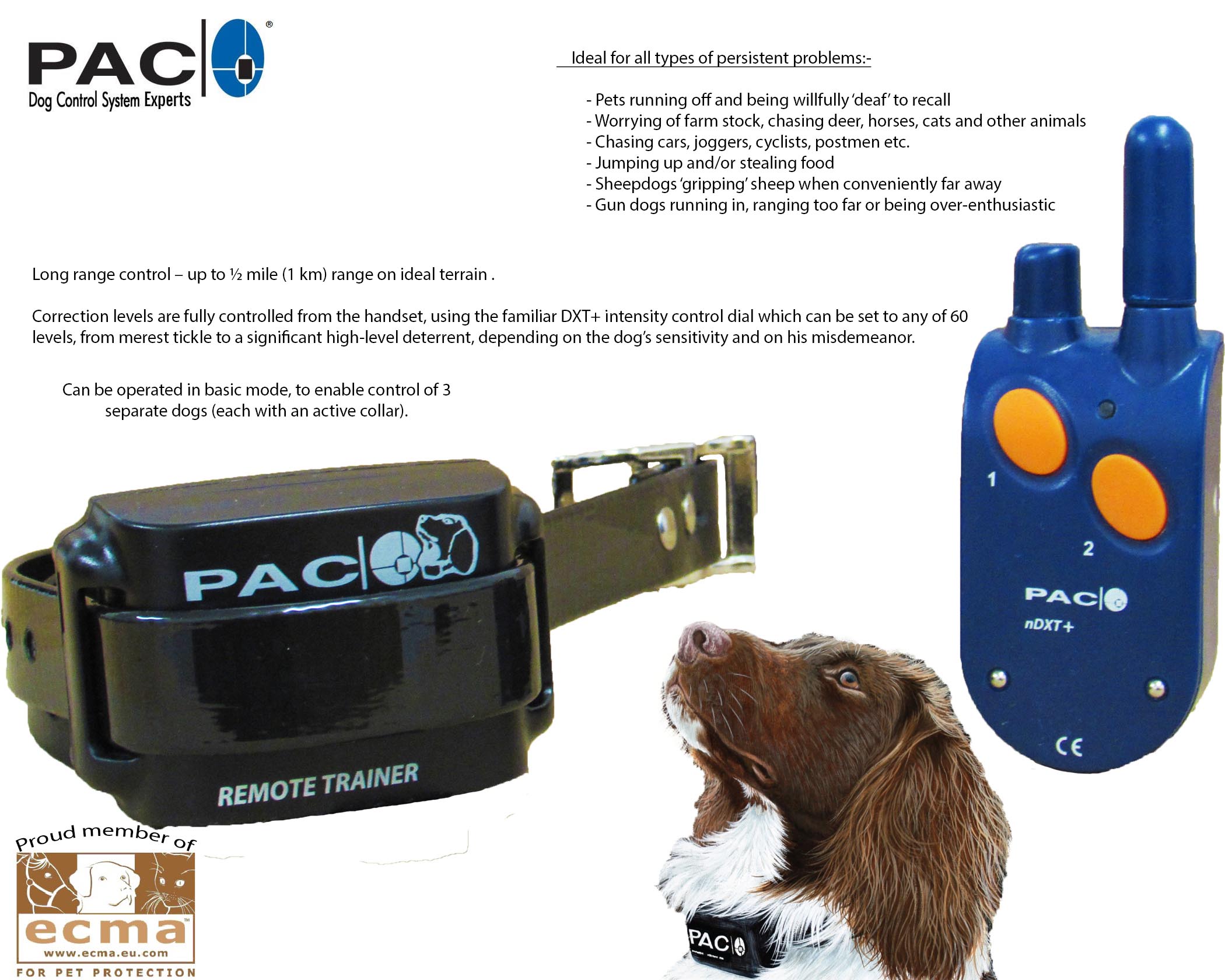 BOTH TRAINERS ENABLE THE HANDLER SIMPLY AND ACCURATELY TO ADDRESS HIS DOG WITH AN APPROPRIATE CORRECTION, ACCORDING TO HIS MISDEMEANOR. WITHOUT HIM REALISING THAT THE CORRECTION IS COMING FROM HIS COLLAR, THE DOG NEEDS TO APPRECIATE THAT A STIMULATION, AT WHATEVER STYLE OR LEVEL, IS HIS TRAINER'S BACK-UP OPTION.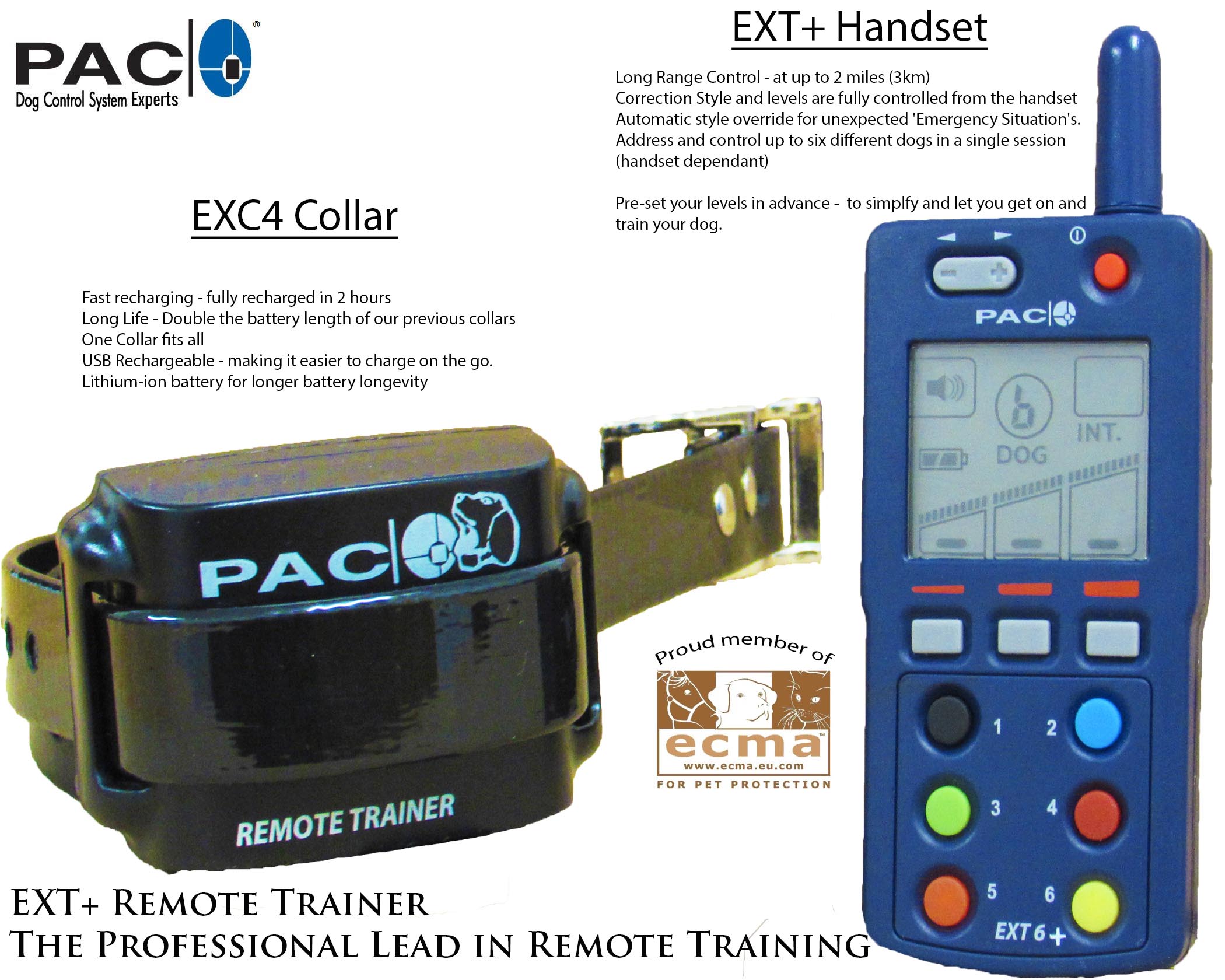 SO WHAT ARE THE DIFFERENCES?
1. EXT+ HAS A MUCH LONGER RANGE. (3 KM VERSUS 1 KM)
2. EXT+ HAS PROGRAMMABLE BUTTONS (WHAT'S THIS: YOU CAN SET THE LEVEL THAT IS APPROPRIATE FOR YOU DOG IN ADVANCE AND SAVE IT | 3 DIFFERENT LEVELS CAN BE SAVED)
3. NDXT+ HAS AN ADJUSTABLE ROTARY DIAL. MAKING IT SIMPLE TO CHANGE ON THE FLY
4. EXT+ (ENTRY LEVEL) IS CAPABLE OF HAVING TWO DOGS RUNNING OF THE CONTROLLER. WITH THE NDXT+ IT IS THREE. (MUST POINT OUT HERE THAT DIFFERENT VERSIONS OF THE EXT+ CAN HAVE UP TO 6 DOGS)
5. BOTH HAVE RE-CHARGEABLE COLLARS. THE NDXT+ HANDSET IS ALSO RE-CHARGEABLE. THIS CAN BE A PLUS AND A MINUS. IF OUT AND ABOUT AND THE BATTERY RUNS OUT YOU CAN'T CHANGE IT. THE EXT+ USE'S STANDARD AAA BATTERIES.
6. BOTH COME WITH A 2 YEAR WARRANTY.
EXC4 COLLAR
• FAST RECHARGING – FULLY RECHARGED IN 2 HOURS
• LONG LIFE – DOUBLE THE BATTERY LENGTH OF OUR PREVIOUS COLLARS
• ONE COLLAR FITS ALL
• USB RECHARGEABLE – MAKING IT EASIER TO CHARGE ON THE GO.
• LITHIUM-ION BATTERY FOR LONGER BATTERY LONGEVITY
• STIMULUS + VIBRATE OR TONE PRE-WARNING.